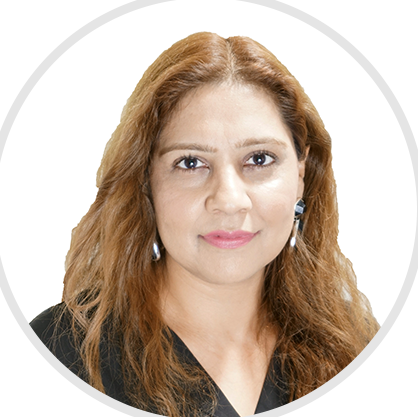 Therapy is such a confidential situation, so not everyone gets to hear about the great work that is done behind closed doors. So that's why we are putting together a series of short interviews with our therapists to feature the amazing work they do and a little about the people behind the job titles.
This month we are featuring our Counsellor and Psychotherapist Rooksana Patel. Here's what she had to say:
Could you briefly tell me about yourself?
"I am currently a Psychodynamic Psychotherapist, an Associate Therapist of Rutland House and also have my own private practice. I am a British born Muslim brown woman. I got here through many years of trying to find myself both professionally and personally. I think these are intrinsically linked through eclectic mix of different life experiences, because my path has gone one way and then another until I found myself as a Psychodynamic Psychotherapist. I have enjoyed different jobs and I remember my very first job many years ago serving tea and coffee to mothers on a maternity ward. to having my own business, nursing, and special needs. and I get to this space of becoming a Psychotherapist. I believe in kindness, empowering, and challenging socially constructed ideas that bring powerlessness to certain people. I believe in promoting truth, empathy, understanding, and trying to have compassion."
What do you like to do in your free time?
"I love spending time with my family and friends! I love to exercise, go on walks, visit this beautiful country, but my real enjoyment at the moment is antique shops! and that comes from memories made with my granddad who took my sister and I to antique shops and seeing the most beautiful and exquisite glass in different colours I was fascinated by the history of it all. I suppose I am revisiting that continuously, so I love to go to antique shops all over the country."
Why did you choose your career path?
"From my own experiences and discoveries, I realised at a certain age that I am not bound by other people's beliefs and ideas. I became a little bit trapped I suppose in the process of trying to find an identity and to conform to other people's beliefs. I realised I didn't have to fit into what is expected from me. It has been a life-long battle, sometimes the process of finding autonomy has been extremely difficult. My journey opened a door which flooded me with feelings and thoughts that I wanted to change, this was a strong feeling, and forced me to dig deeper, access some psychodynamic therapy It was helpful because it helped me look at myself and develop the sense of autonomy with a sense of personal power. This was a realisation that I have choices. Later in my life then I wanted to find out more about psychodynamic or psychoanalytic therapy. I wanted to understand better behaviour, our thoughts, feelings, and our internal world. I then decided to go to university and learn. This helped me understand more about what makes us who we are, why we do certain things. We do not have to be stuck in a place that other people put us in.
If someone walks up to you in the street and asks for some advice on mental health, and if you have about 1 minute to spare, what would you say?
"As a Psychotherapist, being aware not to open any wounds of others, this is a difficult question. Diagraphmic breathing to regulate the nervous system feels like a safe way to help ground a person. I would also suggest 'Seek help and advice, do your research and find a therapist that fits with you.'"
What is the objective of a Psychotherapy session in your opinion?
"For me, it's about walking with my client through their emotional world. The session is a space where we think together. If we don't think, things don't change. The therapeutic relationship is central to the therapy session from where we can explore the internal and external world of my client. The past and present. Enabling the client to leave the session with insight."
When do you think someone should consider Psychotherapy?
"When the individual seeks to change, wants to experience a tangible change, has emotional discomfort, or is ready to explore self both externally and internally. When they feel they want to explore their lives and understand about what is happening or feel like they want to look at self and behaviours in relation to themselves and others. grief is experienced in different ways by different people and working through can be very helpful and coming to an acceptance can feel freeing.
How has the industry changed since you started?
"As you know, Covid-19 has changed the way therapy can be done I have access to the most diverse clients all over the country. So, it's opened up my availability. Also, the training is trying to become less Eurocentric, there's an awareness of the disparities of different communities and their mental. I think that is changing,
As a therapist, how do you manage to be emotionally available to your clients?
"It's all about self-awareness, self-reflection, and self-work continuously. While I'm in session, I work through something called counter-transference. It's basically to listen to myself, listen to my client, and also imagine my supervisor sometimes being there so that I can check with myself all of the time. It's about listening and grounding myself, and if my thoughts go somewhere else, the trainings help me bring myself back so that I am completely available to my client."
What do you like about your job?
'Oh, it's a job, yeah.' I actually enjoy the whole process of what I do from keeping within the framework and keeping the integrity of Psychotherapy. Meeting and having these real and deep connections with clients are what I really enjoy about this job. Being with them in their journey together, having that thinking space, and facilitating. Being able to look at the client's internal world and external world and work together and facilitate something that feels good for them, that's what it's about. Lessening the obstacles for them."